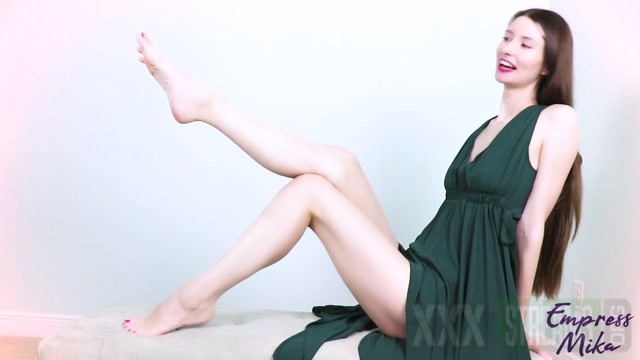 Foot Bitch Training CBT JOI
It doesn't matter how many times you worship My feet, you can never get enough of their big, sexy, yet slender perfection. Every single inch of My gorgeous size 10 feet drive you crazy time and again. They own you to such a deep extent that just looking at them gives Me even more power over you. I could make you do anything for My feet and I think I'm going to take advantage of that in this very clip.
You want to worship and cum for My feet, don't you? Well, in order to get what you want, you will first do what I want. That sounds fair to Me at least, and I know you can't say no to My feet. Hehe, I am going to lean back and relax, and tease you with My long, slender soles while you begin to earn your reward. You are My foot bitch now and that means any pleasure you get from worshiping My feet must be met with equal amounts of pain. Prove to Me that you are worthy of stroking to My toes. Prove that you deserve to cum to My slender, smelly soles. Prove to Me that you want to be My dedicated foot bitch. If you impress Me, I will even give you a countdown!
* This clip is perfect for those submissives that crave a painful and pleasurable jerk off instruction. I take full control of you by teasing you with My perfectly long and slender size 10 feet, encouraging you to crave and worship them to your heart's content. But, there is a catch of course, as the more pleasure you wish to receive, the more pain you must endure for My feet. This clip will leave you feeling sore and swollen, but you will be allowed release, assuming that you can still cum through all the pain! So, be a good boy and prove to Me how much you will endure for the privilege of cumming to My feet. *
Website: EmpressMika.com | Twitter: @YesEmpressMika
Train to be My Foot slave: FootSlave.EmpressMika.com
Your Empress commands you to use a markup code. Good boys obey.
Serve your Empress (+50%): ServeEmpress
Worship your Empress (+100%): WorshipEmpress
Be an Extra Good Boy for Empress (+200%): YesEmpressMika
Published Jan 7, 2020
CBT Fantasy, Foot Fetish
CBT Instruction, Cum Countdown, Feet JOI, FemDom Goddess, Foot Domination, Foot Humiliation, Foot Worship, Goddess Worship, Jerk Off Instruction, Leg Fetish,
Name: Empress Mika in Foot Bitch Training CBT JOI – $12.00 (Premium user request)
MP4, FullHD, 1920×1080
Time: 00:10:57
Size: 858 MB