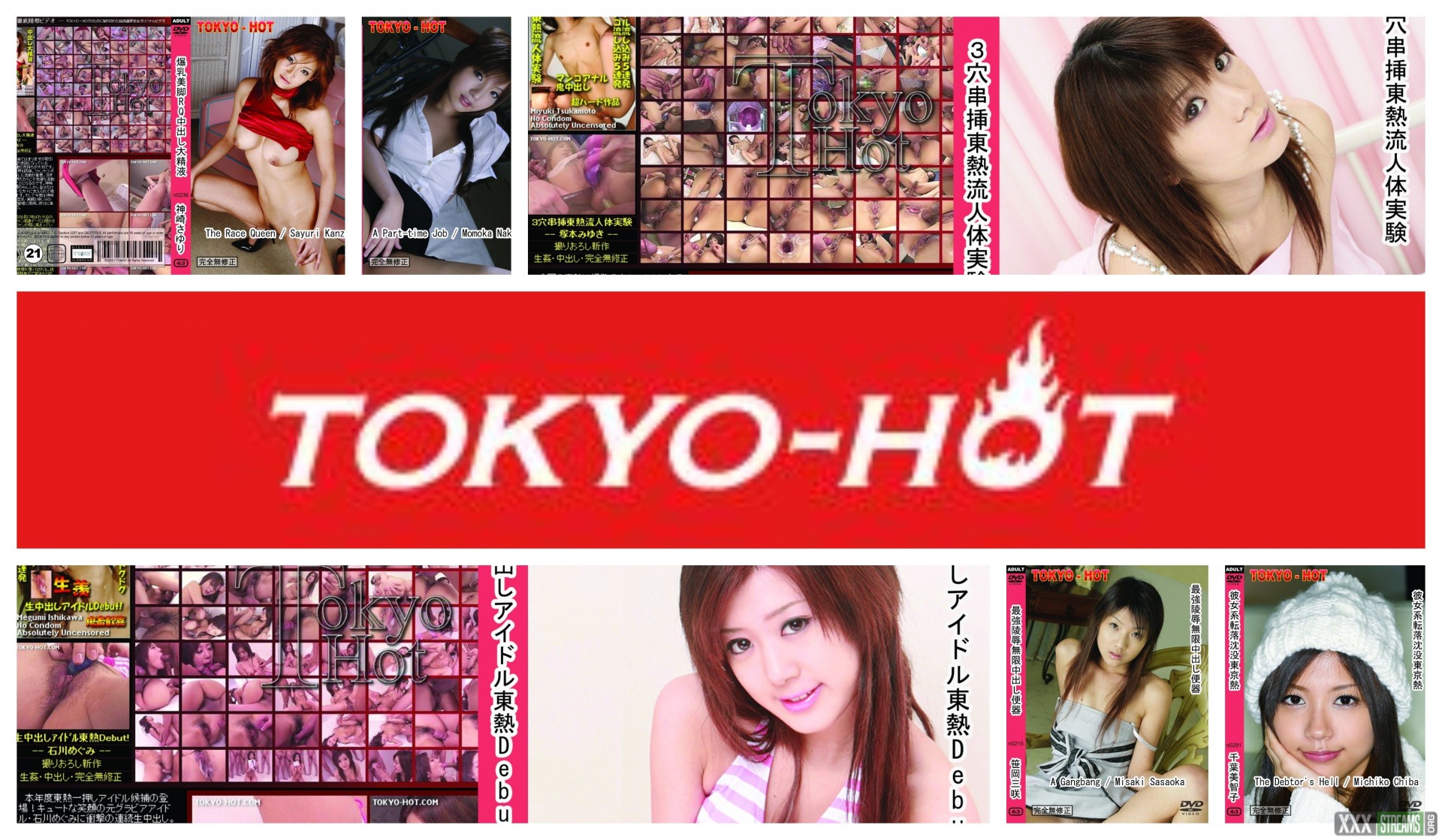 Here is the next installment of the series. Huge thanks to kitkat54 for providing the scenes for the site rip! I decided to start trying to upload in chunks of 100 for speed of total uploads and to keep the freeleeching costs down so everyone can grab these. In general the scenes from the Tokyo Hot "N" series involve one girl who will get molested/toyed by a group of guys and then eventually get gang banged. The scenes usually involve creampies or facials. There are many scenes so individual descriptions will be difficult but I have taken a screenshot of each scene from the site to give a basic description as well as to let you know what appears in the scene. If there is something unique I will try to mention it in the description below. Virtually all scenes include blowjobs, hardcore fucking and cumshots (facial/body/creampie). The fucking happens in missionary, doggy and cowgirl.
I will use the names of the performers as they are listed on the site, but many of the girls use names on Tokyo Hot that they never used anywhere else in their JAV careers so it can sometimes be difficult to find scenes of your favorite stars. In cases where I recognize the star I will add the name, however if you see a star listed and know a pseudonym, leave a comment and make sure to add the tag. Resolutions and bit rates vary. I will no longer be tagging the filenames (Nxxx) but will make sure they are all named appropriately to make the filename search useful.
Some of these scenes are no longer available on the site so the cover screens are not as good, but I am happy to be able to upload them here. Scenes that were missing from the site are: n0206, n0220, n0242, n0247, n0266,
n0283, and n0292.
n0233 You Yazawa gets pissed on by the guys in the scene.
Photos on ubiqfile.com:
[TokyoHot] Siterip n0200-n0299.zip – 284.7 MB
Videos on ubiqfile.com:
n0200.avi – 754.9 MB
n0201 Bad Classmates ~ Chiyuri Sakai.avi – 764.8 MB
n0202 Abnormal Patient ~ Rumi Nagase.avi – 753.3 MB
n0203 Dynamite Slut ~ Yumi Ono.avi – 753.0 MB
n0204 A Slender Slut ~ Sayaka Ando.avi – 732.1 MB
n0205 The Semen Pour Play ~ Ai Tanaka.avi – 819.7 MB
n0206 A Wicked Doctor ~ Mako Kawai.avi – 713.6 MB
n0207 Fan Thanks Day ~ Saori Mizusawa.avi – 721.6 MB
n0208 Her Lovely Smile ~ Eri Nakata.avi – 816.5 MB
n0209 Tokyo-Hot Clinic ~ Ayane Komatsubara.avi – 737.1 MB
n0210 As A Secretary ~ Mizuho Hamasaki.avi – 808.4 MB
n0211 A New Employee ~ Mina Watanabe.avi – 734.9 MB
n0212 A Slender Slut ~ Ryoko Fujiki.avi – 732.1 MB
n0213 Anal Party – Miyuki Tsukamoto.avi – 732.1 MB
n0214 Anus and Creampie ~ Reimi Minami.avi – 728.2 MB
n0215 A Gangbang ~ Misaki Sasaoka.avi – 728.3 MB
n0216 A TV Reporter ~ You Honjo.avi – 725.7 MB
n0217 A Cabin Attendant ~ Anri Sawatari.avi – 791.1 MB
n0218 Always Part Time ~ Aoi Kohinata.avi – 740.2 MB
n0219 Semen Smell C.A. ~ Miyuki Nakagawa.avi – 728.5 MB
n0220 Erotic Dream ~ Rumi Nagase.avi – 699.1 MB
n0221 Semengiving Day ~ Yui Fujikawa.avi – 699.8 MB
n0222 A Delusion Slut ~ Rubi Aiba.avi – 771.1 MB
n0223 A Wanton Wife ~ Ikumi Higashiyama.wmv – 608.9 MB
n0224 An Idiot Teacher ~ Aki Yada.mkv – 693.7 MB
n0225 A Campaign Girl ~ Sayuri Kanzaki.mkv – 693.4 MB
n0226 The Announcer ~ Nao Teduka.avi – 733.3 MB
n0227 An Idol ~ Megumi Ishikawa.avi – 698.7 MB
n0228 Plotted Interview ~ You Honjo.avi – 698.4 MB
n0229 Slut Ranch ~ Aoi Komukai.avi – 775.3 MB
n0230 The Flight Attendant ~ Aya Hasegawa.avi – 700.0 MB
n0231 A Part Time Job ~ Momoka Nakamura.avi – 699.7 MB
n0232 The Saucy Slut ~ Risako Mamiya.avi – 699.9 MB
n0233 Real Meat Urinal ~ You Yazawa.avi – 700.2 MB
n0234 A Nurse In Semen ~ Yui Fujikawa.avi – 699.9 MB
n0235 Young Mistress ~ Miyuki Yano.avi – 698.6 MB
n0236 The Race Queen ~ Sayuri Kanzaki.avi – 699.8 MB
n0237 Haughty Slut ~ Yukie Yamazaki.avi – 699.9 MB
n0238 A Reader Model ~ Kyoko Takigawa.avi – 695.2 MB
n0239 Young Slut ~ Rina Takagi.avi – 699.7 MB
n0240 Beautiful Talent ~ Ami Matsuda.avi – 700.5 MB
n0241 The Best Jeanist Slut ~ Mayumi Watanuki.avi – 695.0 MB
n0242 The Race Queens 2007 Part1 ~ Megumi Ishikawa, Risako Mamiya, Ai Tanaka, Mariko Kondo.avi – 700.6 MB
n0243 The Dangerous Bar ~ Mayu Takada.avi – 698.3 MB
n0244 The Race Queens 2007 Part2 ~ Megumi Ishikawa, Risako Mamiya, Ai Tanaka, Mariko Kondo.avi – 700.0 MB
n0245 The Neighborly Fuck ~ Eri Nakayama.avi – 700.1 MB
n0246 The Race Queens 2007 Part3~ Megumi Ishikawa, Risako Mamiya, Ai Tanaka, Mariko Kondo.avi – 699.5 MB
n0247 Young Couple ~ Akiho Wakatsuki.mkv – 694.9 MB
n0248 The Meat Jar Race ~ Natsumi Kikuchi.avi – 700.4 MB
n0249 The Semen Authentication ~ Remi.Minami.avi – 700.5 MB
n0250 The Naughty Confession ~ Emi Moriguchi.avi – 779.2 MB
n0251 Tokyo-Hot Academy ~ Nanami Hanasaki.avi – 740.5 MB
n0252 The Meat Slave ~ Tomomi Harada.avi – 728.9 MB
n0253 The Vagina Jar ~ Mayu Nemoto.avi – 696.5 MB
n0254 The Semen Treatment ~ Shiori Yamana.avi – 700.1 MB
n0255 The Throwaway Lovers ~ Touko Mikumi.avi – 738.5 MB
n0256 The Slut of Gang Boss ~ Ami Matsuda.avi – 700.5 MB
n0257 The Pussy is Money ~ Kanako Yamazaki.avi – 700.0 MB
n0258 The Gangbang ~ Megumi Ishikawa.avi – 700.0 MB
n0259 The Slut Spy ~ Yukari Shibayama.avi – 700.5 MB
n0260 The Beauty Slender Slut ~ Chiaki Mukai.avi – 699.7 MB
n0261 Miss Campus ~ Maki Noguchi.avi – 700.2 MB
n0262 The Dispair Slut ~ Risako Mamiya.avi – 699.7 MB
n0263 The Fucking Gym ~ Maki Ninomiya.avi – 699.9 MB
n0264 The Fucking Interview ~ Asami Niikura.avi – 699.6 MB
n0265 The Scrap Slut ~ Kana Fujiki.avi – 802.4 MB
n0266 The Obscene Receptionist ~ Azusa Yamabuki.avi – 699.4 MB
n0267 The Housemaid Slave ~ Hitomi Nishikawa.avi – 699.9 MB
n0268 The Report From Pussy ~ Arisa Yuduki.avi – 699.6 MB
n0269 The Fucking Torture ~ Hiromi Noguchi.avi – 699.9 MB
n0270 The Trial Sex ~ Rio Niiyama.avi – 699.5 MB
n0271 A Wreck of Idol ~ Megumi Ishikawa.avi – 698.4 MB
n0272 The Super Sex Club ~ Kanade Motomura.avi – 699.9 MB
n0273 The Conceited Slut ~ Narumi Watase.avi – 699.9 MB
n0274 The Love Juice Slut ~ Hitomi Nishikawa.avi – 699.0 MB
n0275 The Slut Doctor ~ Emi Moriguchi.avi – 740.4 MB
n0276 The Wicked Sales Slut ~ Mizuho Hamasaki.avi – 698.8 MB
n0277 The Meat Urinal ~ Shiori Yanama.avi – 696.7 MB
n0278 The Slut Pet ~ Sae Yasuda.wmv – 1.1 GB
n0279 The Model of Pussy ~ Nanami Moritaka.avi – 698.9 MB
n0280 The Slave for Desire ~ Maki Ninomiya.avi – 699.7 MB
n0281 Mission in Pussy ~ Asami Niikura.avi – 699.7 MB
n0282 The Storm of Semen ~ Tomomi Nonomura.avi – 699.4 MB
n0283 The Semen Flash ~ Aya Nishikawa.avi – 696.5 MB
n0284 The Insult ~ Chizuru Yokokawa.wmv – 1.1 GB
n0285 The 30 Cum Shooter ~ Hitomi Nishikawa.avi – 699.6 MB
n0286 The Teacher and Pupil ~ Yuka Yasuhara.avi – 699.5 MB
n0287 The Meat Jar Doll ~ Yuki Naito.avi – 699.6 MB
n0288 The Saucy Slut ~ Saori Toda.avi – 699.6 MB
n0289 The Meat Urinal ~ Makoto Nanjo.avi – 696.2 MB
n0290 The Meat Slave ~ Misa Yosano.avi – 699.6 MB
n0291 The Debtors Hell ~ Michiko Chiba.avi – 699.5 MB
n0292 The Pitiful Cabin Attendant ~ Kyoko Takigawa.avi – 699.7 MB
n0293 The Foolish College Slut ~ Hiromi Yoshizawa.avi – 699.3 MB
n0294 The Super Model ~ Izumi Mori.avi – 699.9 MB
n0295 The Fucking Toy ~ Mika Yazaki.avi – 700.6 MB
n0296 Go to Hell ~ Tomomi Nonomura.avi – 699.7 MB
n0297 Go to Hell 2 ~ Takako Tominaga.avi – 699.3 MB
n0298 Model Invited ~ Shizuka Hoshino.avi – 699.6 MB
n0299 The Meat Slave ~ Miho Furuta.avi – 741.6 MB
[TokyoHot] Siterip n0200-n0299
siterip piss in mouth saori toda saori mizusawa sayuri kanzaki sayaka ando shiori yamana shizuka hoshino sae yasuda rumi nagase rubi aiba ryoko fujiki reimi minami risako mamiya rio niiyama rina takagi narumi watase nao teduka nanmi moritaka nanami hansaki momoka nakamura natsumi kikuchi jav kanako yamazaki kanade motomura kana fujiki izumi mori hardcore kyoko takigawa ikumi higashiyama hiromi yoshizawa hiromi noguchi hitomi nishikawa mariko kondo makoto nanjo mako kawai maki noguchi maki ninomiya mizuho hamasaki miyuki yano miyuki tsukamoto miyuki nagakawa mina watanabe misaki sasaoka misa yosano mega pack michiko chiba michi asao megumi ishikawa mika yazaki miho furuta mayumi watanuki mayu tadaka mayu nemoto blowjob azusa yamabuki ayane komatsubara aya nishikawa aya hasegawa arisa yuduki aoi kohinata anri sawatari asami niikura asian anal ami matsuda akiho wakatsuki aki yada ai tanaka touko mikuni tomomi nonomura tomomi harada tokyo-hot com uncensored yuu yazawa yumi ono yukie yamazaki yuki naito yukari shibayama yuka yasuhara yuka osawa yui fujikawa you honjo takako tominaga chizuru yokokawa chiyuri sakai chiaki mukai eri nakayama eri nakata emi moriguchi